10 Restaurants with Amazing Views and Outdoor Seating
There's nothing better than sitting back and enjoying a nice meal… with a nice view, too.
In the past, we've covered lots of restaurants in and around Pittsburgh that have spectacular views, but now, we're turning our attention to those that have a view – and that offer outdoor dining (so important these days!).
Know of any other spots that fit on this list? Let us know in the comments!
Redfin Blues
North Shore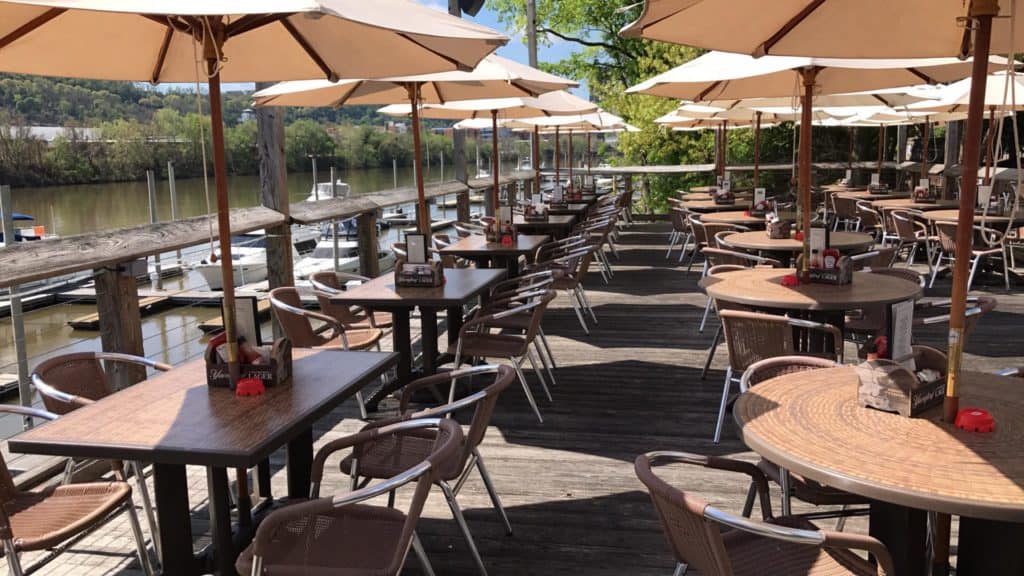 Enjoy a view of the water at Redfin Blues, Pittsburgh's only North Shore waterfront grill. Their beloved outdoor deck is currently open for dining service (first come, first serve, though guests can be added to the waitlist through their Yelp page). The menu features pizzas, flat breads, burgers, and plenty of fresh seafood. Redfin Blues (100 Waterfront Drive)
Coughlin's Law
Mt. Washington
Restaurants on top of Mt. Washington are known for their stellar views of the city… but there aren't very many that also offer outdoor seating. Coughlin's Law has stunning downtown views, and an outdoor patio, with first come, first serve seating. Coughlin's Law (10 Virginia Avenue)
Out of the Fire Cafe
Donegal
Take a trip out to the Laurel Highlands to enjoy the view at Out of the Fire Cafe in Donegal, about an hour outside of Pittsburgh. Dine-in service is available, and so is outdoor service on their stunning deck, featuring beautiful mountain views. They're open Wednesdays through Sundays for lunch and dinner., with a menu that features everything salads and burgers, to pork chops and a Maine Lobster Boil. Reservations are available for dinner service. Out of the Fire Cafe (3784 State Route 31, Donegal)
Farmer x Baker
Aspinwall
Enjoy lovely views of the Allegheny River at Farmer x Baker at Aspinwall's Riverfront Park. The cafe is currently open for takeout and very limited outdoor seating, offering Friday night dinners (with a sunset view!) and seat-yourself tables. You'll find a new menu each week posted on their Instagram account. Farmer x Baker (285 River Avenue, Aspinwall)
Over Eden
Lawrenceville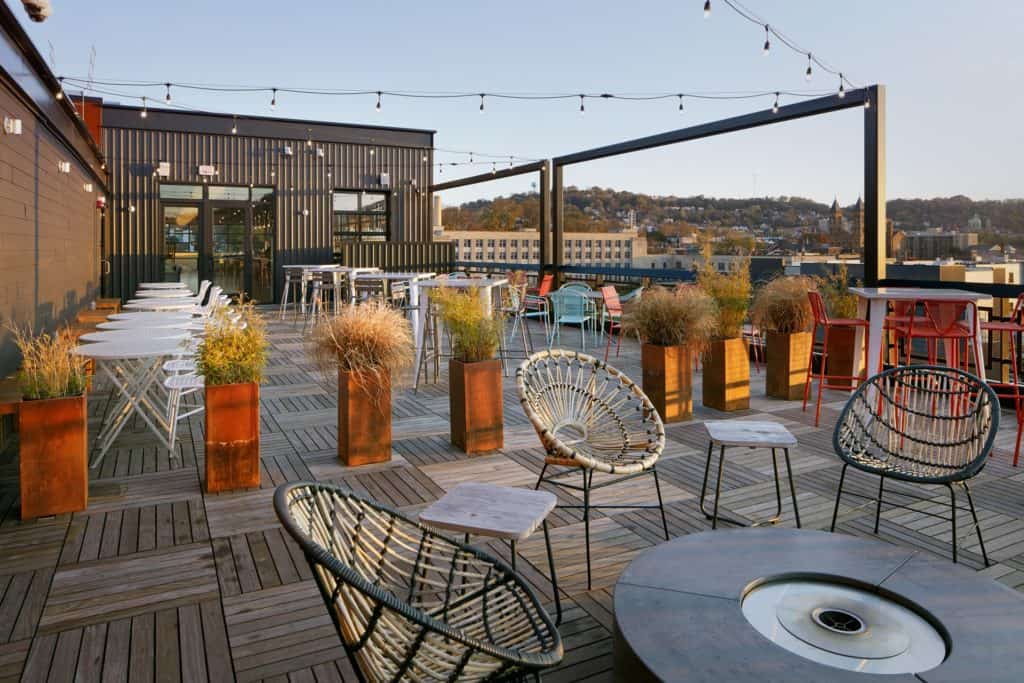 Located on the rooftop of the Tryp Hotel, Over Eden in Lawrenceville offers some stunning views of the city. The Mediterranean restaurant and bar is currently open with limited indoor and outdoor seating (first come, first serve), serving dinner Mondays through Saturdays, and brunch on Saturdays and Sundays. Over Eden (177 40th Street)
The Grandview Saloon
Mt. Washington
The Grandview Saloon has two awesome decks for outdoor dining, each with a perfect view of Downtown Pittsburgh. Breakfast and dinner are served daily, and the upper deck can be rented for small celebrations. The Grandview Saloon (1212 Grandview Avenue)
OTB Boathouse
Allison Park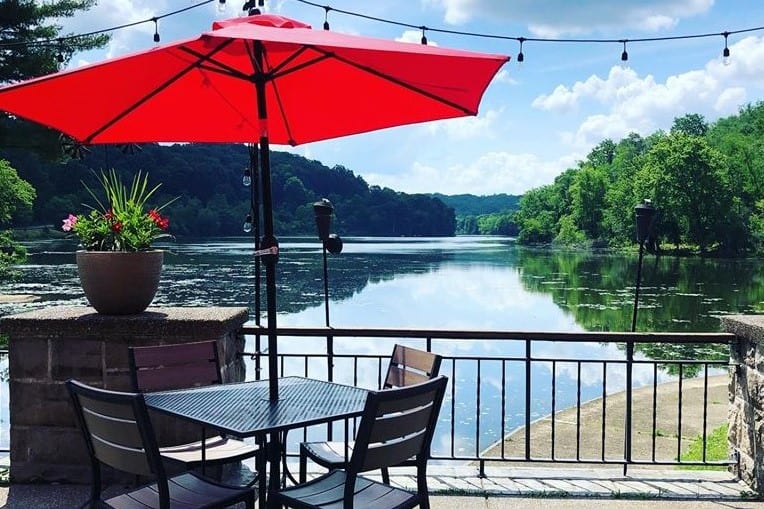 The Over The Bar Bicycle Cafe at the North Park Boathouse is currently open for patio seating and carryout every day, offering lovely views of North Park Lake. The restaurant serves sandwiches, salads, and burgers, and carry out beer and cocktails, too. OTB Boathouse (10301 Pearce Mill Road, Allison Park)
The Commoner
Downtown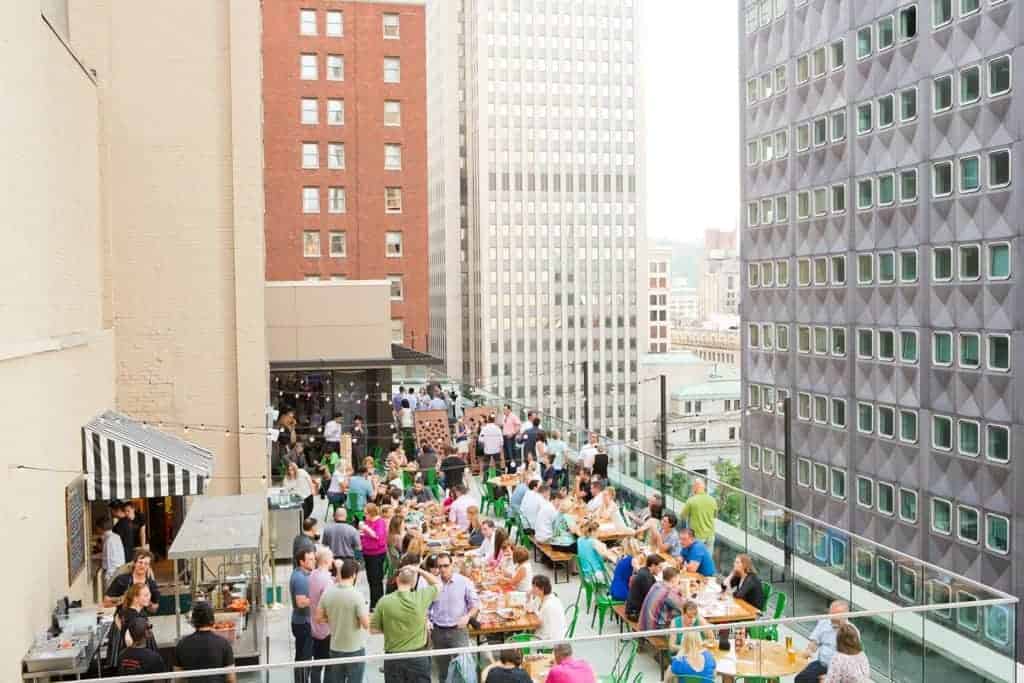 Head up to the rooftop of the Hotel Monaco to experience The Commoner's new outdoor dining space, complete with panoramic views of the city. This year, they're taking over the Biergarten to serve guests seasonal dishes like Sweet Corn Soup, Mushroom Cavatelli and Tomato Tartin. Reservations are available, and the restaurant is open Wednesday through Saturday from 5:00 to 9:00 p.m. The Commoner (620 William Penn Place)
Hofbräuhaus
Southside Works Cinema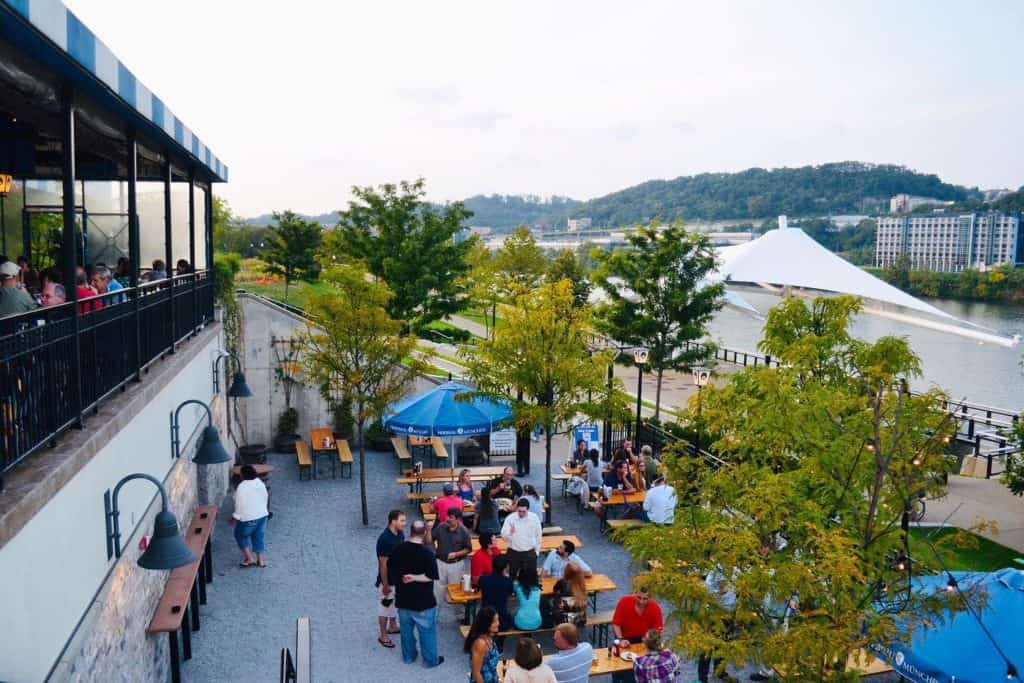 With views overlooking the Monongahela River, the outdoor patio areas at Hofbräuhaus are a great place to sit and enjoy a beer… and a big pretzel. The Bavarian restaurant is currently open for both indoor and outdoor dining in their Biergarten, with a number of new health and safety regulations in place. Hofbräuhaus (2705 S. Water Street)
The Foundry Table & Tap
North Shore
The Foundry Table & Tap is now open for indoor dining, and offers outdoor seating on their patio. Located right on the water, the restaurant's patio has a stellar view of the Allegheny River, and offers reservations at 412-930-0744. The Foundry Table & Tap (381 North Shore Drive)
PITTSBURGH'S DAILY FOOD NEWS WEBSITE
ADVERTISING
Interested in advertising on Good Food Pittsburgh?
EMAIL NEWSLETTER
Sign up to receive email updates and news from GoodFoodPittsburgh.